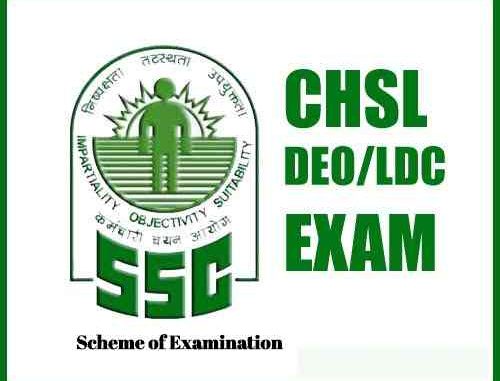 SSC CHSL Scheme of Examination:    Students eagerly wait for the SSC CGL exams as it is the best opportunity to enter the government departments of India. SSC conducts exams in two forms SSC CHSL (Combined Higher Secondary Level ) and SSC CGL (Combined Graduate Level ) exam. Those who haven't graduated yet can apply for the SSC CHSL exam. SSC will soon release complete notification of SSC CHSL 2019. Below you can check the scheme of examination for SSC CHSL 2018.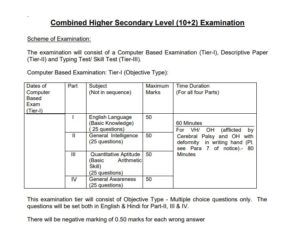 Also Check: SSC Exam Vocabulary: Important English Vocab 2017
Above you can check the SSC CHSL Scheme of examination. We are also sharing the SSC CHSL Scheme of Examination in PDF format below. SSC CHSL exam is divided into 4 sections namely English Language, Quantitative Aptitude, General Intelligence and General Awareness.
The English Language exams include questions related to Vocabulary, one-word substitution, Omission Emission, Jumbled sentence etc The General Intelligence exam consists of questions on reasoning. Some of the common questions in the reasoning section is the arrangement of figures, age problems, direction problems, number system arrangement or sequence questions. The Quantitative examination puts questions related to the number system, Geometry, Arithmetic etc You need to be fast while calculating the answers of the maths question. There are a lot of competitive books available for the SSC exams in the market.  You can also  buy the Kiran Publications book series for the preparation.
Also Read: SSC Stenographer Recruitment 2017 
Download SSC CHSL Scheme of Examination 2018:  Download SSC CHSL Scheme of Examination CHSLE
You can prepare for the SSC exam according to the scheme of examination. The above scheme of examination is for SSC CSL Tier 1 which is a computer-based test. You will be allocated centers for the same. SSC CHLS Tier 2 will be a descriptive exam.
So, this was all about the SSC CHSL Scheme of examination.  We shared the scheme in both image and PDF format. Hope this article was useful for you. Stay tuned with careeradvice4u.com for Government jobs and exam updates.
Don't Miss:  Best Books for SSC CGL Exam: Pre and Mains [ Upto 45% OFF ]
Deepak Kumar is the founder of careeradvice4u.com. He is a Professional Blogger, web designer, and a teacher too. He has done Computer Science from Delhi University and has 8 years of teaching experience. He teaches various subjects upto XII class and above that also. He had in his mind from a very long time to use his blogging passion for the help of School, college students, and other job seekers. Careeradvice4u will bring to you all the information and stuff that you need to shape up your career. He is also the founder of successfully growing tech blog: techadvises.com and also runs his own Web Solutions company, xPress Web Solutions, which deals in all types of web solutions- Web designing, development and Android apps designing.
Latest posts by Deepak Kumar (see all)