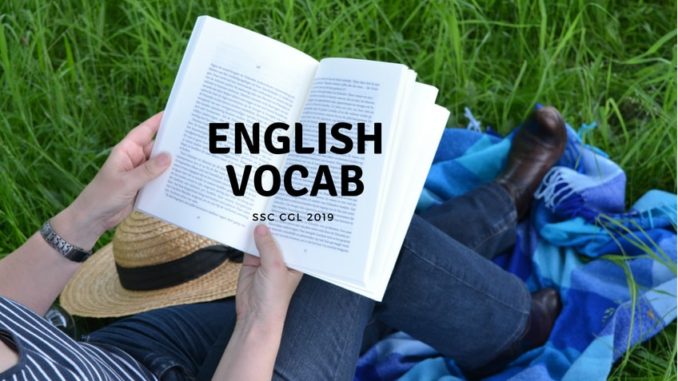 English Vocabulary for SSC CGL 2019
Vocabulary for SSC CGL 2019:    English is an important subject in any competitive exam. SSC is one of the most popular competitive exam for which lakhs of students appear every year. SSC stands for Staff Selection Commission. SSC conducts exams for various posts througout the year. SSC CHSL and SSC CGL are 2 important exams conduced by the department of SSC. SSC CGL stands for SSC Combined Graduate Level exam. It has two tiers. Tier 1 and Tier 2, i,e Pre and Mains exam for which students prepare with full dedication. SSC Pre has four sections Reasoning, English, Maths and GS. Today, in this post we bring to you the best Vocabularies for SSC CGL 2019 Exam. Most of the words given in this vocabulary has already appeared in the previous year SSC CGL exams.
English Vocabulary for SSC CGL 2019
Important English Vocab for SSC CGL
Abash                      To embarass
Abrogate                End of a tradition
Backbite                To talk bad about someone
Anguish                 Unhappiness
Aghast                    Extreme feeling of stress or tension
Immutable            Which can't be changed
Laurels                   Honour
Insane                      Mad
magnitude              Amount
Pyre                           A pile up of wooden pieces to burn a dead body
Vestige                    A component or part of an existing thing
Terse                         Concise
Orator                       A person who can deliver excellent speeches
Panacea                    A medicine or solution for all types of diseases
Aberrant                  Degrade
Egoist                          Selfish
Loquacious               Talkative
Soliloquy              Act of talking to oneself
Malpractice          Doing a wrong deed
Malnourished     Lacking proper nourishment
Cacophony             Producing a harsh sound
Omnipresent        Present everywhere, used for God
Dipsomaniac         A person who is extremely fond of alcoholic drinks
Misogamist            A person who hates marriage and does not believe in the idea.
Democracy            A form of government in which people choose the leaders.
Calligraphy           The art of a beautiful writing
Somnambulist      A person who walks in the sleep
Bigamy                   A person who is married to 2 persons.
Cacoderma            Having a bad skin
Maladroit                Not having a skillset
Exogamy                  Marrying outside your group or community
Corpse                       A human's dead body
Carcass                      Animal's dead body
Fatal                          Deadly or very dangerous
Eternal                      Something which will always be there, ex. God
Agnostic                    A person who does not believe in God
Theist                         A person who has positive beliefs for God
Atheist                        Someone who does not believe in God
Indefatigable            Not feeling tired/ always staying refreshed
Polyglot                      A skilled person capable of speaking many languages
Malleability               The ability to be beaten into thin sheets
Ductility                     The ability to be beaten into thin wires
Oncology                  Study of cancer related cells
Opthalmology         Science of eye and its diseases
Fastidious                  Some one who is very difficult to be pleased
Pathology                  Study of various diseases and their causes
Neurology                  A study of the nervous system and functions
Incorrigible              Not possible to correct
Gerontology              Old age related problems and diseases and their study
Portable                    Easy to carry
Brittle                        Something which breaks down easily
Sanguine                  Having a positivity or hope
Gullible                        A non clever person or the one who can be fooled easily
Iconoclast                  One who destroys religious idols and images
Impervious                Not allowing penetration
Austerity                     Having a hardness in attitude
Doldrums                    temporary stage of inactivity
Melee                            a noisy fight
Frantically                in a confused state
Stall                             to bring to a halt
Grouse                       to express pain in a sad or tired state
Nefarious                   evil activity
Gobble                        To eat very fast and in an awkward manner
Aggravate                  To make something worse than it is now.
Innocuous                   harmless
Reiteration                     repetition
So, these were some of the important Vocabularies for SSC CGL 2019 exam. Hope you liked our article! Don't  forget to share this with your friends. Stay Tuned with Careeradvice4u for more exams, career and educational updates.
Deepak Kumar is the founder of careeradvice4u.com. He is a Professional Blogger, web designer, and a teacher too. He has done Computer Science from Delhi University and has 8 years of teaching experience. He teaches various subjects upto XII class and above that also. He had in his mind from a very long time to use his blogging passion for the help of School, college students, and other job seekers. Careeradvice4u will bring to you all the information and stuff that you need to shape up your career. He is also the founder of successfully growing tech blog: techadvises.com and also runs his own Web Solutions company, xPress Web Solutions, which deals in all types of web solutions- Web designing, development and Android apps designing.
Latest posts by Deepak Kumar (see all)