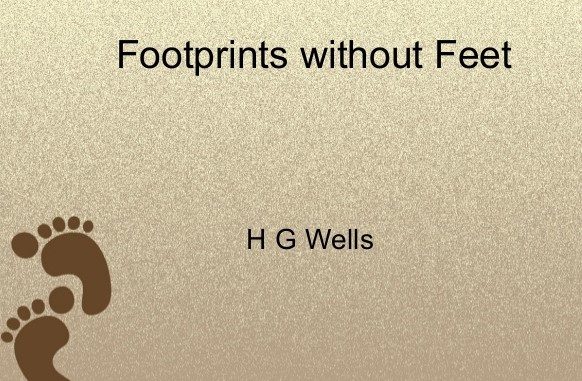 Footprints Without Feet Summary
We have shared important question papers, last year papers, and model test papers for class 10. We got requests from many students to provide the summary of Footprints without Feet Chapter of Class 10 English Literature. Below we have tried to summarize the whole chapter so that you can understand it well and can score good marks in your exams.
Footprints Without Feet Summary: Detailed
Footprints without Feet is a chapter in class 10 English book. This is an interesting story of a scientist who discovers a potion which can easily make a person disappear. The scientist test that potion on himself. When he drinks that, he actually becomes invisible. He was astonished to see that thing. When he realized that no one can see him and he can do anything he wishes, his mind comes up with some mischievous ideas. He went here and there in the streets of London. Once he was passing by and some of the children noticed his footsteps in the mud. They felt strange and kept following his footsteps.
Don't Miss: Class 10 Control and Coordination Extra questions
After sometime when the muddy path ends, the children are not able to see his footsteps anymore and escapes. He keeps roaming here and there without clothes but the weather was not favourable, it was cold enough outside. So, he made a plan to get some clothes from the supermarket. He silently enters the supermarket without making any mistake. Then he makes himself comfortable by getting some clothes for himself. He enters the kitchen and finds some good food to eat. After having a good dinner, he then slept on the pile of quilts.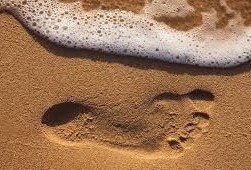 Also Check: Best English Grammar Book for Class 10
In the morning as the staff comes, they doubt the presence of someone on the store. Then he had to run away to save himself. The clothes were making it difficult for him to hide from people so finally, he had to remove his clothes. After a few days, he decides to move to a silent place in a village, Iping. There he books a room in an inn. Before reaching that hotel he hid his full face with a bandage so that no one doubts him. When he reached the counter of the hotel, people find him very awkward. He then lives there for some time but after some days his money gets finished and he is forced to do something. So, he decides to steal the money.
Don't Miss: Best Notes for Tenses: English Grammar
Footprints without Feet summary Ending:  He quietly enters the room of clergyman and steals money from the drawer. They suspect someone in the room but because he was without clothes no one is able to see him and he escapes. The inn owner and his wife walks outside the room of the scientist Griffin and they notice that the room is wide open, his bandage and clothes are lying on ht bed. As soon as they enter the room, Griffin comes and throws the chair towards the lady's leg. Out of fear the runaway and he shuts the door with force. This makes them feel that there is some spirit or something in that room. Meanwhile, the clergyman calls up police, and as the news of theft spreads people start doubting the scientist for the same. They try to catch him but he escapes because he was invisible and no one could see him. Catching an invisible thing is easier said than done!
Footprints Without Feet Extra Questions
1. How did Griffin become invisible?
Griffin was a scientist. He was working to make a potion which can make anything disappear. so, he tried that potion on himself and he became invisible.
2. How did Griffin manage to get some clothes for himself?
Griffin was feeling cold outside so he went to the big mall to steal some clothes. He went inside when it was time to close the store. As he was invisible, no one could notice h9im entering the mall and he stole a hat, coat, and other clothes.
3. How Griffin managed to get rooms in the hotel without being noticed?
Griffin was very smart. He wrapped his face with the help of bandage and wore the clothes he stole from the mall. Then he silently went to the hotel counter and paid the cash and booked two rooms for himself.
4. How did people doubt Griffin for all the incidents?
From the very beginning, he sounded strange because of his getup. Then the news of theft in the clergyman's room spread everywhere. The hotel owner and his wife also noticed some strange activities in Griffin's room. All these incidents made people doubt Griffin.
5. How Griffin escaped from the mall?
Griffin had a good time at the mall. He stole clothes, ate food from the kitchen and then had a good sleep. In the morning when the staff came, they sensed something strange. They saw him because of his clothes so he had to run. The staff members kept running after him. Finally, he had to remove his clothes to escape from the eyes of the staff.
So, this was the English chapter Footprints Without Feet summary. We have tried to provide the complete theme of this chapter. Hope you liked reading it. If you want more such summaries for other chapters then do let us know via the comments section below. Soon, we will upload class 10 last year sample papers. Stay tuned with Careeradvice4u
Deepak Kumar is the founder of careeradvice4u.com. He is a Professional Blogger, web designer, and a teacher too. He has done Computer Science from Delhi University and has 8 years of teaching experience. He teaches various subjects upto XII class and above that also. He had in his mind from a very long time to use his blogging passion for the help of School, college students, and other job seekers. Careeradvice4u will bring to you all the information and stuff that you need to shape up your career. He is also the founder of successfully growing tech blog: techadvises.com and also runs his own Web Solutions company, xPress Web Solutions, which deals in all types of web solutions- Web designing, development and Android apps designing.
Latest posts by Deepak Kumar (see all)