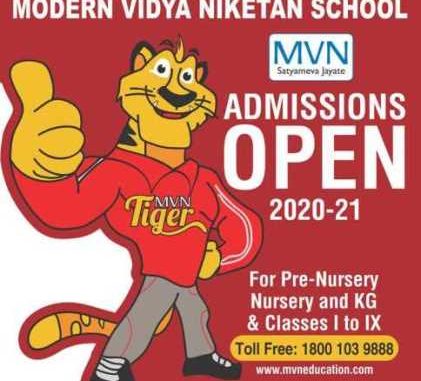 Children spend a large part of their time at school. The future of the students depends on the kind of education and basic etiquettes learned at school. Modern Vidya Niketan was started with an aim to provide quality education to students. In 1983 MVN came into being under the tutelage of a visionary Shri Gopal Sharma with the first batch of students. Since then, MVN has been scripting success stories with its trailblazing results. Since the very beginning, our students have excelled in academics and made their way to IITs and other prestigious institutes.
The number of admissions into IIT and other institutes from MVN has increased year after year. The credit for the excellent result goes to our system of experiential learning that is research and value based for their holistic development. MVN offers 'A' grade facilities to its students. Let us check out all the facilities provided to the students of MVN in their plan of 'Inclusive Education'.
Also Check: Present Education System of India
Facilities Offered at MVN School, Faridabad Excellent Faculty
MVN has a team of highly qualified teachers.

skilled and committed teachers impart the best education to their students.

well experienced Teachers explain the topics with practical examples.

Regular tests are conducted and thought-provoking assignments are given to the classes for better learning and recapitulation.

Special focus is on various National and International Olympiads, KVPY, NTSE, NSTSE etc.
Safety and Security
CCTVs are installed everywhere in the school for the safety of students and the entire building is under surveillance.

Counselling session for non-teaching staff

: Regular Counselling sessions and workshops are organised for the non-teaching staff of the school.

Employee Verification:

Proper Employee verification of administrative and non-teaching staff is done at MVN.

High-Security Measures:

MVN has tight security at both Entry and Exit gates of the school.

A female attendant is always present at the girl's washroom.

Female only Zone for Primary Students.
Fire Safety at MVN
MVN Faridabad is fully-equipped with fire extinguishers on each floor to avoid any mishap.

Frequent Mock drills are organized for students for their safety.

Regular inspection, maintenance, and updation of safety equipments.

A quick response and emergency team to tackle any eventuality.
Modern Facilities for students at MVN
A well-stocked and furnished library for students and teachers.

Fully Air-conditioned school transport is available on several routes to students at nominal charges.

The school building is centrally Air – conditioned.

Provision of Smart Classes.

Hi-tech Laptop and I-Pad Labs.

Multiple Audio and Visual (AV) rooms.

Multiple Play Stations and other devices for students.
Sports Facilities at MVN
All Work and no play makes Jack a dull boy. At MVN, we ensure the overall development of students. Sports are a must for students as they enhance their energy and stamina. Sports also aid learning and decision making ability of the students. Students who are active in sports are seen as faster learners as compared to those who don't participate in any sports. Some of the sports which students can enjoy at MVN are:–
Kick Boxing

Table Tennis

Taekwondo

TRX

Gym Cycling

Swimming

Skating

Volleyball

Badminton

Lawn Tennis

Basket Ball

Football
Also Check:  The Future of Blogging and Blogging as Career Option
Transport Facility
All the school buses are equipped with AC and GPS tracking.

A teacher incharge and 2 attendants (1 Male and 1 Female) are always present on the school bus.

Regular training is given to drivers.

First Aid safety kit is always present in the school buses.
Medical Room and Emergency
MVN has a medical room which is always open during school hours with trained and experienced nurses.

A 24-hour ambulance service is available to handle any emergency.
Good Air Quality
Timely Humidification check is done at MVN to create a balance between indoor and outdoor humidity level.
Regular Workshops and Counselling Sessions
Regular workshops and counselling sessions are conducted for students at MVN Faridabad, for the following issues:-
To Teach basic Life skills for becoming a better human being.

Anti-Bullying amongst students

Good Touch & Bad Touch

Gender Sensitivity Training

Environment sensitivity
The above is a bird's eye view besides MVN club activities, Alumni meet and emphasis on multi disciplinary methods that are offered at MVN. If you have any queries, please feel free to contact MVN through the contact information shared below.
Toll-Free No. – 1800 103 9888
Deepak Kumar is the founder of careeradvice4u.com. He is a Professional Blogger, web designer, and a teacher too. He has done Computer Science from Delhi University and has 8 years of teaching experience. He teaches various subjects upto XII class and above that also. He had in his mind from a very long time to use his blogging passion for the help of School, college students, and other job seekers. Careeradvice4u will bring to you all the information and stuff that you need to shape up your career. He is also the founder of successfully growing tech blog: techadvises.com and also runs his own Web Solutions company, xPress Web Solutions, which deals in all types of web solutions- Web designing, development and Android apps designing.
Latest posts by Deepak Kumar (see all)