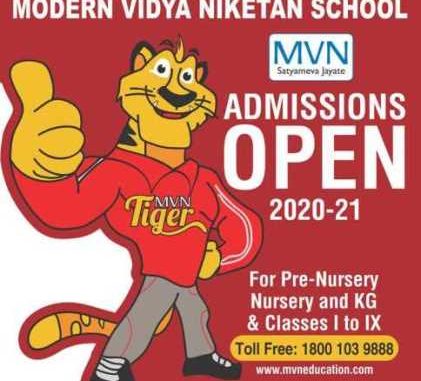 ADMISSIONS at MVN
A school is the most impressionable & memorable part of every student's life. From academics to fun activities, making friends and mischief, exams to vacations & what not! Every moment that students spend in school stays with them as a sweet memory. After days & nights of consistent endeavour, a year full of learning, we are happy to announce your child's further step in the new Academic year. 
We are pleased to announce that Modern Vidya Niketan School is now accepting registration for admissions for the academic year 2020-21. A new school year means exciting new opportunities to learn new things about the world around us. Yes, we have all this & much more to make your child's today and tomorrow better and brighter! ADMISSIONS for classes Pre-Nursery, Nursery, KG, Classes I – IX and Class XI for the academic session 2020-21 have begun at MVN Schools. 
 Also Check: 6 Highest Paid Careers after 10+2
With the start of each academic year, we at Modern Vidya Niketan,  Faridabad, look forward to grooming sharp young minds by nurturing their natural spirit of curiosity creating an opportunity to build a solid foundation in the early years of your child, an opportunity for them to realize their potential to be the best versions of themselves & an opportunity to help you choose from India's Best Schools in Faridabad. 
We provide a safe, happy and lively environment where we take care of each child's uniqueness and pace of learning, contributing to the overall aspect of their personality. MVN is a world-class school with large space and an ideal teacher-student ratio that places each child at the heart of the educational experience continuously striving to give its best to nurture every child's potential.
MVN School, Faridabad assures your child only the best education along with world-class sporting facilities within the school campus. So, your child grows up not just learning from the books but also learning to become a responsible social being. Our Skill tests & Programmes prepare students for higher studies and encourage them to raise challenging questions, whilst developing a strong sense of their own identity.
At MVN School, we foster in our students the values of compassion, empathy and tolerance towards people with different backgrounds, without any discrimination. Children are born without boundaries and prejudices. Any personal intolerant beliefs or prejudices are social constructs that we actively ensure hold no roots at our school. Here our students participate in different religious / community celebrations.
Our teaching methodology is a combination of international teaching methods and basic concepts of traditional values. Your children deserve to be empowered to develop knowledge, skills and values that allow them grow into fine, responsible adults. We ignite in students love for learning by refining in them passionate, social, physical and imaginative possibilities and making them global citizens.
 Don't Miss: Best Tips To Improve Your Career Development Process
Let's partner to lay a solid foundation for your children and secure their future. If you haven't explored MVN school yet and are looking for a school in Faridabad that nurtures excellence with expert teachers, first-class facilities and an embedded enrichment programme, we invite all prospective parents to visit our campus and meet some of our excellent staff. There is no other school you would want to admit your kid at, once you get to know what a pride of place MVN enjoys in and out of Faridabad.
Get in touch, our admissions are open for academic session 2020-21. A resourceful admission team is always there to help you at each & every step of the admission process. The applicants are requested to fulfill the eligibility requirements prescribed by the school. For any queries you can check the details shared below: —
Official Website of  MVN School, Faridabad: http://www.mvneducation.com
 MVN on Facebook:  https://www.facebook.com/mvneducationgroup
Toll-Free No. – 1800 103 9888
Latest posts by Deepak Kumar
(see all)