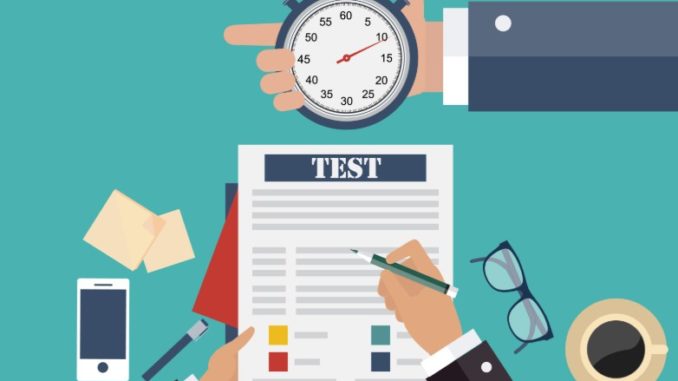 If you are too much occupied with the tension of recruitment then take it easy. This is an era of solutions and you have a solution for every problem. You can always make your tasks easy and more effective in the presence of right tools. You can use the options that are absolutely trustworthy, efficient and easy to use.
Have you ever used a pre-employment test in your recruitment programs? If not then you can give them a place now. You can pick any kind of test to measure the capabilities and potential of the candidates. However, since the resumes and interviews have much to get you about the professional skills and knowledge of the candidates; you can pick a pre-employment test that gets your insight about the behaviour, overall attitude, approach and temper of the candidates. Exactly, you guessed it right; you should use a psychometric test. It is a test that would give you a dive beneath the general layers of candidates.
Generally it is quite convenient to prepare for an interview.  The applicants, more or less knows what kind of questions they are going to be asked, and they do their proper preparations accordingly.  But a single psychometric assessment test can be really unpredictable and it completely depends on instinct of a candidate. There are plenty of candidates who possess brilliant communication and interview skills, but might not really fit into the working space of an organization.  A psychometric assessment test is really effective to avoid these types of people. Similarly, a great psychometric assessment test is also going to do much more than just finding the right employee. It will assist you in comprehending the career objectives of the candidates and how they wish to grow in the firm. This is something that even helps you in framing training policies consequently.
Also Check:   Top 5 Benefits of a Good Government Job [ Sarkari Naukri Advantages ]
Can the candidate take pressure?
There are many excellent and intelligent candidates that you can pick but what if in case the candidates give up during the time of difficulty? It would be unfair right? A good employee in today's time is one who can keep himself calm and composed during the time of tension and act rationally. No matter how qualified and skilled a staff member is, if he gets freezes during the time of pressure or tension; it would be a dangerous thing for the organization. After all, it is not about what you choose, it is about how you choose it. If you pick a candidate who is always composed and take pressure lightly; he would be able to perform the tasks in the most convenient and effective manner.
Looks can be deceptive
If you find a person sitting in your recruitment program who is nicely suited and has proper hairstyle; that is a good thing. But that is not something you are going to choose him on for. He has to possess the potential, good attitude and understanding of things for the best performance. Looks can always be deceptive. Once you have a psychometric assessment test, it would find out the reality about the candidate in no time. Looks can always be deceptive if you are not looking beyond it. Moreover, these tests do find out the information about the temper, confidence, and approach of the candidates and hence you can make a decision in a wiser manner by taking these things into consideration.
It is true to state that Psychometric exam is a significant test that has turned out to be an integral part of diverse levels of recruitment processes. The meaning of this term psychometric is the gaging of mind.  In opposition to the frontages such as education, skills, experience, discipline, looks and punctuality, interactive personalities and behaviours of an applicant can be much challenging to assess during any interview. Maybe it is the reason that diverse firms have started embracing psychometric concept for their process of recruitment.
Also Read:  Reasons Why Learning SAS is Essential as A Fresher
In case you dig into the details of Psychometric examination, it can gage different types of attributes such as motivation, intelligence, critical reasoning and personality profile. An interview procedure can only be to some extent subjective and though employers usually assess skills and experience in a correct manner, various things can still be left for the intuitive instinct concerning linked standards. Of course, when you can be sure about the overall behaviour and personality of your candidates then why do you want to stick with conjecture? These tests give you a proper outline of people and their quality.
The chief reason behind a psychometric examination is to cater gaugeable, objective information that can cater a better versatile picture of rightness of an applicant. It might be claimed or argued that psychometric assessment testing provides some scientific credibility and neutrality to the procedure of recruiting. This test might cater a much just and right way of measuring an applicant, as all the candidates are going to be packed with a uniform test. There would be no possibility of any kind of partiality or favours. The test is neutral and going to assess everyone on the basis of their personality, understanding of things, skills and knowledge.
It might be known to you that there are even some companies that sometimes tend towards psychometric assessment testing as a technique of screening and later on they eradicate huge quantities of applicants at the beginning of a recruitment initiative.  In these scenarios, psychometric exam might turn out to be helpful to basically eradicate the workload of hiring the staff, as it do help in swiftly identifying a smaller pool of appropriate applicants who have the capability to perform well in advanced levels of interview process. The point is that the employers or authorities get a better understanding of their candidates and employees and make their decisions on the basis of the result of these tests. Since these tests are impartial, there remains no doubt or arguments.
So, it would be a fantastic thing to use a psychometric assessment test for the measurement of your candidates and employees!
Deepak Kumar is the founder of careeradvice4u.com. He is a Professional Blogger, web designer, and a teacher too. He has done Computer Science from Delhi University and has 8 years of teaching experience. He teaches various subjects upto XII class and above that also. He had in his mind from a very long time to use his blogging passion for the help of School, college students, and other job seekers. Careeradvice4u will bring to you all the information and stuff that you need to shape up your career. He is also the founder of successfully growing tech blog: techadvises.com and also runs his own Web Solutions company, xPress Web Solutions, which deals in all types of web solutions- Web designing, development and Android apps designing.
Latest posts by Deepak Kumar (see all)