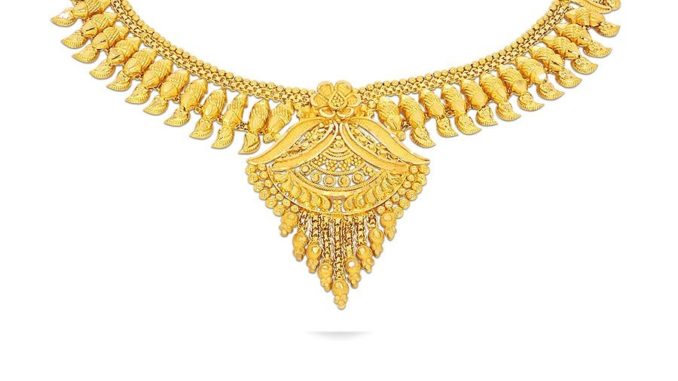 The Necklace Summary Class 10   Matilda Loisel was a very beautiful, attractive young woman. She belonged to a middle-class family and her family was not rich. She was very ambitious. She used to think that she has nothing that she could boast about. It wasn't possible for her to marry a rich or famous person due to her family background. Hence, she ended up getting married to a clerk who worked in the Ministry of Public Instruction in a very middle class family. 
Being very ambitious she wasn't very happy with the current life situation as she cannot afford to have a luxurious life. She wore simple clothes and lived in a middle-class room with very old walls. She used to be jealous of her rich classmates in school.
One day her husband brought her an invitation card for a party. However, she was not pleased as she did not have good clothes to wear for the occasion. So her husband arranged to buy her an evening gown of 400 francs, which he was saving to buy a gun for himself. She was once again very sad as the day of the feast approached closer. This time the reason was that she did not have any good jewellery to wear with her beautiful dress to the party. She thought she would look the poorest woman at the feast. Her husband gave her an idea. He suggested borrowing some jewellery from her friend, Madame Forestier, who was quite rich. Matilda liked this suggestion. Next day she went over to her friend, Madamme Forestier's house and borrowed a diamond necklace.
Don't Miss: The Book That Saved the Earth summary Class 10
The day of the feast, Matilda got dressed in her lovely evening gown and the beautiful diamond necklace to go to the feast. Once she reached to the party hall, she started dancing with her husband. Everyone eyes were fixed at her as she danced with her husband. She was looking at the most beautiful woman of all women present at the party. Everybody present there was fascinated by her beauty. All of them wanted to know more about her. All the officers of the ministry expressed a desire to dance with her.
She faded into delight and started dancing in fun. She forgot everything in arrogance of her beauty. As the party progressed, she was getting quite high on her success. She left the party hall at 4:00 am. Her husband wrapped a shawl around her as they were leaving. Just after reaching home, she stood in front of the mirror to see herself one last time with great pride. But she was shocked to notice that the necklace was missing from her neck. She screamed in despair.
Matilda informed her husband that she lost the diamond necklace that she borrowed from her friend. Her husband got frightened and they both vigorously started looking for the lost necklace but couldn't find it. Mr. Loisel went back out to find the necklace in case it got dropped on the way back home. The fear of losing necklace wasn't letting sleep either of them. Her husband returned home around 7:00 in the morning. But he didn't find the necklace anywhere.
Also Read:  Nelson Mandela Summary Class 10 English
On her husband's advice, Matilda told her friend that one of the hooks of the necklace was broken, so she sent the necklace for the repair. Which buys them extra  time to buy another diamond necklace to replace the lost necklace. While searching from one shop to another, Matilda eventually found a necklace which looked exactly like the lost diamond necklace. The shopkeeper asked 40000 francs for the necklace. After a little bargain, the deal was finally settled at 36000 francs. Matilda's husband had a total of 18000 francs in his savings. He borrowed remaining 18000 francs from some of his friends. He sent the diamond necklace back to Madam Forestier which she did not even care to see.
Life got more difficult for Matilda and her husband. Mr. Loisel had to pay a debt of 18000 francs. Because of which they had to move to a smaller house. She also had to let go all her servants. She started doing all the work by herself; fetching water, cleaning, moping, doing laundry, doing dishes. Her husband worked hard in the evenings and late into the nights to repay the borrowed 18000 Francs. By the end of 10 years he finally managed to pay off all the debt, but Matilda paid a very big price for the momentarily satisfaction of showing off. These 10 years had wearied her out and actually look old. Although, this life lesson made her tough, raucous and an obstinate woman.
One day Matilda when went out for a walk, she saw Madam Forestier. She ran towards her to greet her. Madam Forestier was very surprised to see the huge change in her. Matilda told that Madam Forestier that she was leading a very difficult life and it all happened due to the necklace she borrowed 10 years ago to wear it to feast. Madame Forestier was astonished when she listened to all this. Thenafter, Matilda explained Madam Forestier everything; how her diamond necklace was lost at the party and how she bought another necklace for 36000 francs to return it to her which in return took her 10 years to repay the loan which her husband took from his friends. After Matilda was done telling Madam Forestier her story, Madam Frostier told Matilda that her necklace was an artificial one and was only for 500 francs and the diamonds in it were artificial and not real diamonds. 
So, this was The Necklace Summary Class 10. We will keep sharing more CBSE Class 10 English summary, Class 10 English notes, Sample papers and Mock test papers. Don't forget to follow Careeradvice4u on Facebook for the latest Govt. job and results updates.
Deepak Kumar is the founder of careeradvice4u.com. He is a Professional Blogger, web designer, and a teacher too. He has done Computer Science from Delhi University and has 8 years of teaching experience. He teaches various subjects upto XII class and above that also. He had in his mind from a very long time to use his blogging passion for the help of School, college students, and other job seekers. Careeradvice4u will bring to you all the information and stuff that you need to shape up your career. He is also the founder of successfully growing tech blog: techadvises.com and also runs his own Web Solutions company, xPress Web Solutions, which deals in all types of web solutions- Web designing, development and Android apps designing.
Latest posts by Deepak Kumar (see all)