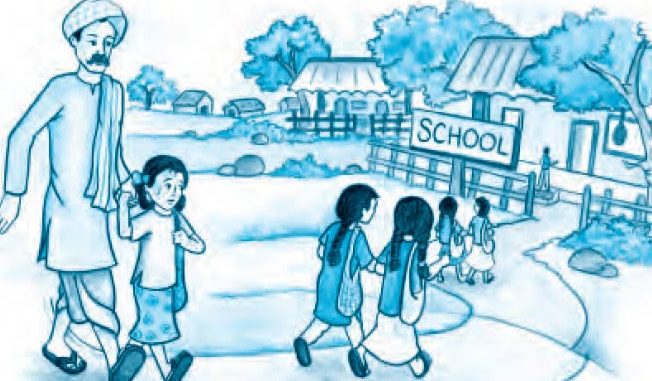 Bholi Summary: Class 10 English
There was a girl named Bholi in very small village. Although, her real name was Sulekha, but everyone used to call her Bholi – which basically means simpleton and someone who is not very smart and bright. She felt from a cot when she was quite young This caused damage in her mind. Due to which, she was able to talk only when she turned 5 but she still stammered. After this painful episode, fate had another blow for her. As she turned 2, small pox attacked her and this left pox marks all over her body. Other kids in the village made fun of Bholi and mocked her. She could not talk much and spoke rarely.
Ramlal, Bholi's father, was a Numberdar. Ramlal was a father of 7 children; 3 sons and four daughters. Bholi was the youngest of all. All the other kids in family were healthy and strong except for Bholi. Ramlal would always worry about Bholi as she has very little chances of getting married due to her stammering and pox marks which does not make her very appealing in appearance. A girls' primary school opened in the village just when Bholi turned 7.
Bholi Summary: Tehsildar Reached School
The tehsildar came to do the inauguration of the newly opening school. Tehsildar, as a revenue official and a government representative, convinced Ramlal to send her daughters to school to study and set examples for other villagers. Ramlal, after reaching home, told this entire conversation to his wife. His wife was not in favour of sending daughters to the school as no one will marry her daughters because people did not put such girls in very high regard. After a long discussion, she, however, got convinced to send Bholi to school. Her reason behind was that she thought that Bholi anyways has zero chances to get married, so there is no harm in sending her to school.
Must Read:  Class 10 The Necklace Summary
Next day, Bholi was given a nice bath, she was also given a new dress to wear, her hair properly washed, oiled and pleated. At first, Bholi was very scared to go to school, but after she was all nicely made up, she thought that she is about to visit a nice place. After this her father took her to school. When she reached her classroom, she got seated in a corner.
Teacher then started asked Bholi her name. Bholi became nervous and stammered and children in her class started laughing. Bholi started crying but her teacher was very kind to her and the teacher's calm and soothing voice bought Bholi to ease. After motivation from her teacher, Bholi gathered herself up and was able to tell her full name. Then Bholi's teacher told her that she can speak fluently without stammering if she comes to school every day. She will go on becoming the most educated girl in the village and people will listen to her carefully and no one will ever dare to laugh at her. 
Class 10 Bholi Summary: Proposal For Bholi
After many years, this small village turned into a small town. Gradually, the condition of the village changed a lot. Primary schools were converted into secondary schools. Theaters and other facilities for the people of the village. At the same time, a marriage proposal came for Bholi. The proposal was from a person named Bishamber who lived in a nearby village. He was a grocer and was rich enough.  Ramlal and his wife thought about the proposal and decided to marry Bholi off with Bhishambar as he was a widower and quite rich. They thought that he would ask for dowry but he did not do the same. They were happy because they thought that their daughter was dumb and no proposal can be better than this one. Bholi was present there and was listening to everything. Her parents decided to fix her marriage with Bishamber. 
The day of the wedding arrived. The groom and his relatives arrived with great pomp and show to which Ramlal was very delighted. As the groom was about to place garland in his bride's neck, he discovered that Bholi had pockmarks and denied marrying her. He then started asking for dowry money if they want him to marry her. Unexpectedly, he put forward his demand. He asked for a sum of 5000/- rupees. Ramlal pleaded him but he did not listen to anything. Ramlal also placed his turban in feet of Bishamber but all in vain. Ramlal then somehow managed the amount of money and decided to give that amount to save the honour of both the families.
Bholi was witnessing all this. She took a firm decision and denied for marrying an old man who was greedy just for money. She asked her father to take back all the money. This was a surprise for everyone as Bholi did not stammer. People accused her of being shameless to do reject a marriage like this. The wedding party had to return without any wedding. Ramlal was full of grief and shame and told Bholi that no one will marry her now and what will be she do in future without getting married. Bholi replied that she will take care of her parents when they will grow old, and she will teach in the same school in which she learnt so much in her life. Her teacher, who first motivated her in life to pursue studies, was standing nearby, quietly watching. She smiled proudly at Bholi's decision. 
So, this was class 10 English Chapter Bholi Summary. Hope you find this useful for your CBSE Board Class 10 exams. We hope that this will help you to understand the chapter clearly and will also help you to score well in your exam. Stay tuned with Careeradvice4u for more CBSE Class 10 English Summary, CBSE Class 10 Sample Papers and Study Material.
Deepak Kumar is the founder of careeradvice4u.com. He is a Professional Blogger, web designer, and a teacher too. He has done Computer Science from Delhi University and has 8 years of teaching experience. He teaches various subjects upto XII class and above that also. He had in his mind from a very long time to use his blogging passion for the help of School, college students, and other job seekers. Careeradvice4u will bring to you all the information and stuff that you need to shape up your career. He is also the founder of successfully growing tech blog: techadvises.com and also runs his own Web Solutions company, xPress Web Solutions, which deals in all types of web solutions- Web designing, development and Android apps designing.
Latest posts by Deepak Kumar (see all)