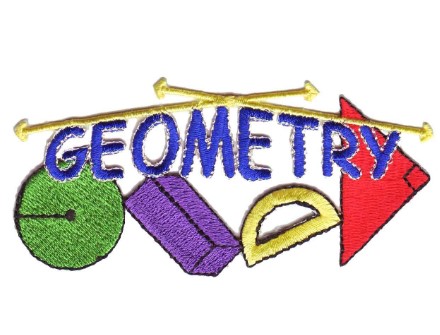 Math can be a bit intimidating at first, as there are so many formulas and concepts to learn. I was reminded of this last weekend when I was helping my nephews do their geometry homework. They were a bit confused with some of the concepts, so I came up with a few games to help them understand the material. It ended up being a pretty productive homework session as they learned the concepts and finished the homework on their own. So, I thought it would be a good idea to find apps my nephews could use to learn geometry concepts on their own. After doing a bit of research I found a list of the best 10 geometry learning apps.
Also Check:  Best 10 Apps for Learning Geometry
I checked the apps on the list and reviewed my top 4 favorites. However, I also grouped them into two categories. The first group is great if you want to quickly reference geometry formulas. On the other hand, the second group is great if you want to learn geometry by playing games.
4 Best Geometry Apps
Geometry Apps with Formulas & Equations
It is no secret that geometry formulas are plentiful and hard to memorize. So, to make things a bit easier, the first group of apps I selected work like a formula reference guide for anything geometry related. They also contain formulas in other math disciplines, so you will probably find them to be really useful in solving many mathematical problems.
1. Maths Formulas Free, Math Formulas
My first pick is Maths Formulas Free. I found this to be a really handy tool for both high school and college students. I liked that it includes math formulas and equations from a variety of disciplines, including geometry, trigonometry, algebra, derivatives, and more. I also thought it was neat that you can solve simple geometry calculations using in-app calculators rather than working through the equation every time. Some users pointed out that the trigonometry table has some errors. I checked myself and yes, they are still there. They are just a few, and hopefully, the developers will fix them soon. So, make sure you are only using the right information from the table in the meantime!
2. Math Formulas
My second pick is Math Formulas. Like my previous pick, you will find much more than geometry formulas. Math Formulas has everything from math history to geometry, analytical geometry, integrals, differential calculus, and more. Supposedly there are over 2000 math formulas, which is more than I can ever imagine using myself. The only drawback I found is that there are no calculator functions built into the app. For that option, you might prefer my first pick, Maths Formulas Free.
Geometry Apps with Games and Puzzles
While some people may enjoy learning math, others may not be so excited about learning the concepts. The second group of apps I selected makes learning geometry fun for everyone. So, if you are looking for a more entertaining way of learning math, I'm certain you will love these picks. By solving geometry problems with games and puzzles, you will easily learn the concepts and have fun at the same time!
3. Pythagorea, King of Math
My third pick is Pythagorea. This is one of my favourites as you can learn geometry by playing games. Supposedly there are more than 300 levels to play through. So far, I've played through a few dozen levels and I've found them to be really fun and addicting. I also found them to be really effective for learning the concepts, just as if you were taking geometry lessons. I must confess that I did get stuck on a level or two, as the difficulty increases as you advance. Unfortunately, there is no hint option to help you get through a puzzle. However, you can review concepts that are used in a puzzle using the info button. And, if you are still stuck you do have the option to move on to the next one and return to the puzzle later.
4. King Of Math
My last pick is King of Math. What I really liked about it is that it doesn't feel like you are studying math at all. You choose a character when you first start, which you level up as you play through the puzzles. I found it to be really fun because you earn points for every puzzle you complete, and then you can check your progress on a worldwide leaderboard. While you can choose to play geometry puzzles only, there are also games involving other math concepts like addition, multiplication, fractions, and even statistics. The only drawback I found is that there is no option to review math concepts that are used in the problems. If you prefer to have that option, try out my previous pick, Pythagorea.
Conclusion
So, these are my top 4 favorite apps for learning geometry. I introduced my nephews to Pythagorea and they absolutely loved it. Now, we each have the app on our phone, and we compete to see who has reached the highest level. If you are looking for a fun way to learn geometry or you simply want to reference geometry formulas on-the-go, I'm certain you will find exactly what you need. With these apps at your fingertips, you will become a geometry expert in no time!
Stay Tuned with Careeradvice4u and if you have any query about these 4 best Geometry Apps then feel free to ask us in the comments section below.
Deepak Kumar is the founder of careeradvice4u.com. He is a Professional Blogger, web designer, and a teacher too. He has done Computer Science from Delhi University and has 8 years of teaching experience. He teaches various subjects upto XII class and above that also. He had in his mind from a very long time to use his blogging passion for the help of School, college students, and other job seekers. Careeradvice4u will bring to you all the information and stuff that you need to shape up your career. He is also the founder of successfully growing tech blog: techadvises.com and also runs his own Web Solutions company, xPress Web Solutions, which deals in all types of web solutions- Web designing, development and Android apps designing.
Latest posts by Deepak Kumar (see all)